BlueRoseEquestrian.com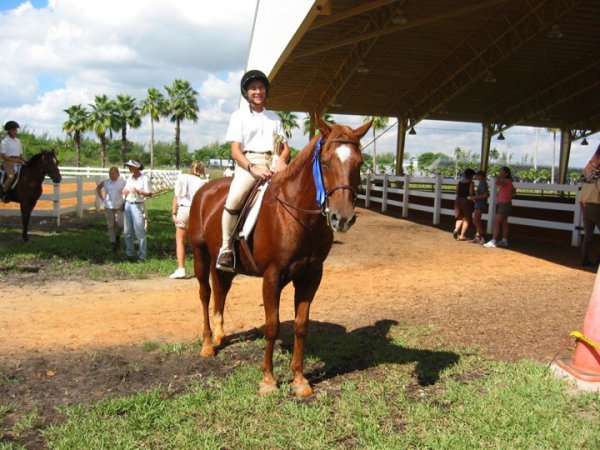 RebeccaRosell
   was born in 1991, in Miami, FL. Her first word was horse in Spanish; "caballo". And so the love affaire began... 

Growing up, Rebecca's older half sister owned horses so Rebecca was around them since she can remember. Rebecca officially started taking lessons in the 1st grade and showed in local Hunter/Jumper devisions. 

To persue horses Rebecca began working at a Arabian Breeding Farm at the age of 11, learning REAL farm life; fixing fences, how baby horses are made through to how they are born, then how you raise them and break them in. 

At 13 Rebecca got her first horse (see Blue's story), which was a 3 year old, wild arabian stallion, that she trained all by herself. 
Later on Rebecca successful showed Blue in 3'6 jumpers and won cash prizes along with champion titles. 

At the end of high school Rebecca met a dressage trainer, Mary-Beth Clocl-Perez, who changed her life. Rebecca had only been working at her Andalusian Breeding and Dressage barn for the summer but that's all it took for her to fall in love with the sport of Dressage. 

Unfortunately/fortunately, Rebecca had to leave her working Dressage position, to travel across the country with her horse to attend art college. She had worked very hard to acheieve a full paid mereit scholarship to one of the top art schools in the country, Art Center College of Design, for her horse artwork. With her savings she was able to ship her horse with her to school. 

In California Rebecca was able to continue her Dressage training where she left off. She began apprenticing as a working student to top Dressage rider Flora Jean Weiss, who was 1998 Olympic Hopeful, trained by Hilda Gurney. 

After approximately 2 years with Flora Jean, Rebecca moved onto professional practices with horses, but continues taking lessons. She is currently competeing successfully and aims at Arabian Sport Horse Nationals and dreams of USDF metals with the right horse.