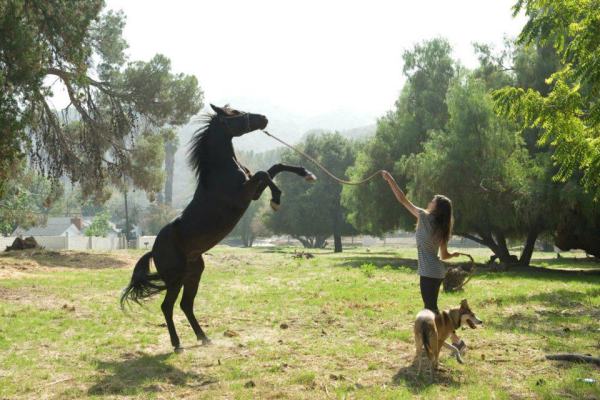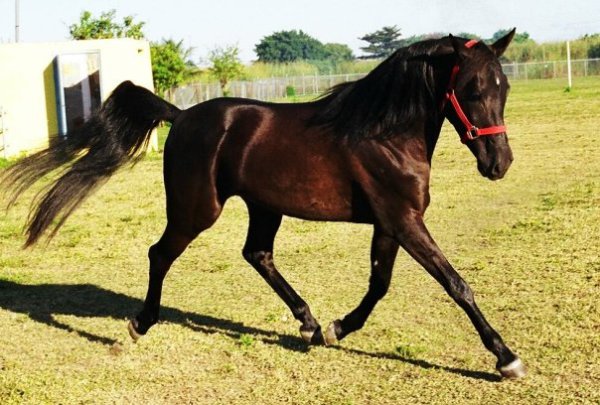 Blue. also known as, Fakher el Farid, was born in West Virginia by breeders, Paradise Egyptian Stud, in 2001. 
Blue found his way into Rebecca's life via Dreamhorse.com. She had been looking for him her whole life. 
Against better judgment, Rebecca's parents purchased the wild 3 year old stallion and shipped him to Miami, FL. 

The horse was a nightmare. Upon arrival it was discovered he had been used as a tease which creates only the worst type of stallions. Constant rearing, striking out, charging with teeth bared, bolting away were just some of the many behaviors Blue was fond of. 

Blue hurt Rebecca on a regular basis, drawing blood. She was beside herself with fear but could see beyond the beast, how affectionate he could be. It was a do or die situation. With help of Clinton Anderson Horsemanship videos and a 2 time visit from a trainer, Rebecca had the pieces she needed to make progress with this horse. 
Subconsiously she began learning how to communicate and understand horse language. 

After 6 months and after being bred, Blue recieved brain surgery (gelding) which helped move the training along. 

After 1 year of ownership, Rebecca was finally able to ride Blue. 

From there they've done all kinds of things; from 4ft jumps, to Polo, thousands of trail miles, swimming, Dressage, Sorting Cows to Liberty Performances. 

There's is nothing this pair can't do because it's built on tough love.